Why guitar?
The accoustic guitar has a beauty and intimacy which is the perfect compliment of a wedding ceremony.
I play a large variety of classical, latin, flamenco, jazz and arranged popular music.
If you have a favorite song, or one that is special to you as a couple for any reason, I can arrange a solo guitar version for your ceremony or reception. I have arranged countless songs for weddings, everything from Bach to Coldplay to Brian Adams.
Free Consultation!
If you are looking for ideas for your ceremony or reception, why not meet with me for an obligation free consultation/audition. I can play through a range of repertoire, and talk about ideas for arranging music of your choice.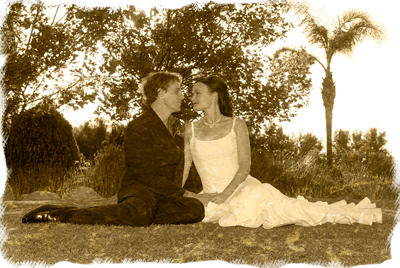 Testimonials
"Wanted to say a huge thank you from both Steven & I for the great job you did playing at our wedding! Was so lovely & personally I thought it made the world of difference in setting the mood for the evening ... I had the most wonderful wedding & you certainly helped with making it extra special."
- Natalie & Steven
"We enjoyed your playing so much and all our guests loved the atmosphere you created and your beautiful music."
- Tania & Elio
"you were amazing and we had so many wonderful compliments from people who were so impressed with you … We will certainly be recommending you to others."
- Vanessa & Nick
"We would have no hesitation in recommending you to friends for any similar occasions."
- John & Karen
Equipment
I play hand-made Spanish flamenco and classical guitars. For amplification I use Sennheiser mikes with an AER dedicated acoustic amplifier, to produse a crystal clear and accurate sound.
Price Guide
Starting price for a wedding ceremony is $300. This typically consists of playing as guests arrive, for the bridal entrance, signing of the papers, and for half an hour afterwoods. Any amount of time beyond this is charged at $100/hour. A travel surcharge may be added for areas outside of metropolitan Adelaide.
Email:
info@aloysiusleeson.com
Phone:
0411 563 113 (Within Australia) +61411 563 113
Main Website:
www.aloysiusleeson.com
Upcoming gigs
Last Saturday of every month, 8pm: Casa blabla, Leigh st, Adelaide. Free entry. Starting this month (30/8/14)
Flamenco Guitar Class
If you live in Adelaide and are interested in learning or furthering your knowlegde of flamenco guitar, I've started teaching a flamenco guitar group class at
Casa de Flamenco
. More information
here
.
My latest album
My album "Chispa Flamenca" is available at selected Adelaide music stores, as well as on the
web via Chaos Music
or
digitally via itunes
. Thanks to Adrian van Nunen for the design and Solveig Larsen for the sketch, and to Artsa who supported the project. There are samples from the album on the
multimedia page
of my
homesite
.